Disclosure: This page contains affiliate links. If you purchase a product using one of the links, I might receive a commission. More Info.
Author of the New York Times bestselling Jericho Quinn Thriller series, Marc Cameron's short stories have appeared in The Saturday Evening Post and BOYS LIFE magazine. In late 2016, he was chosen to continue the Tom Clancy Jack Ryan/Campus Thriller series. Cameron is a retired Chief Deputy U.S. Marshal who spent nearly thirty years in law enforcement. His assignments have taken him from Alaska to Manhattan, Canada to Mexico and dozens of points in between. He holds a second-degree black belt in Jujitsu and is a certified scuba diver and man-tracking instructor.
His latest book, Stone Cross, was released in March. His next Jack Ryan novel (#20 in the iconic series) will be published November 17, 2020.
Originally from Texas, Cameron is an avid sailor and adventure motorcyclist. His books often feature boats and bikes including OSI Agent Jericho Quinn's beloved BMW GS Adventure.
Cameron lives in the Alaska with his wife and BMW GS motorcycle. He enjoys hearing from readers.
Marc Cameron Latest Book
More Books by Marc Cameron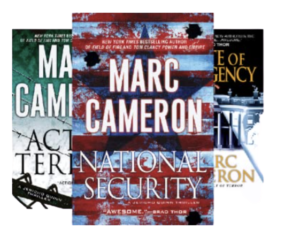 Show Notes
Mentions: