#1 New York Times Bestselling Author Lee Goldberg broke into television writing with a freelance script sale to Spenser: For Hire. Since then, his TV writing & producing credits have covered a wide variety of genres, including sci-fi (seaQuest), cop shows (Hunter, The Glades), martial arts (Martial Law), whodunits (Diagnosis Murder, Nero Wolfe), the occult (She-Wolf of London), kid's shows (R.L. Stine's The Nightmare Room), T&A (Baywatch, She Spies), comedy (Monk) clip shows (The Best TV Shows That Never Were) and total crap (The Highwayman, The New Adventures of Flipper).
He published his first book ".357 Vigilante" (as "Ian Ludlow," so he'd be on the shelf next to Robert Ludlum) while he was still a UCLA student. The West Coast Review of Books called his debut "as stunning as the report of a .357 Magnum, a dynamic premiere effort," singling the book out as "The Best New Paperback Series" of the year. Naturally, the publisher promptly went bankrupt and he never saw a dime in royalties.
 His TV work has earned him two Edgar Award nominations from the Mystery Writers of America.
His two careers, novelist and TV writer, merged when he began writing the "Diagnosis Murder" series of original novels, based on the hit CBS TV mystery that he also wrote and produced, and later wrote the 15 bestselling novels based on "Monk," another show that he worked on.
Lee has written more than thirty novels, including Washington Post bestsellers Killer Thriller and True Fiction, as well as King City, The Walk, and the internationally bestselling Fox & O'Hare cowritten with Janet Evanovich.
His latest book, Lost Hills, which has been universally lauded by seasoned crime writers and reviewers, is the result of meticulous, full-immersion research (which we talk about during the interview).
Latest Book From Lee Goldberg
More Book by Lee Goldberg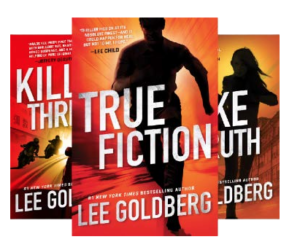 Show Notes
Author mentions: Ralph Dennis, D.P. Lyle, Robert Ludlum, Janet Evanovich, Tod Goldberg (Lee's brother and fellow bestselling crime fiction author).
Brash Books – Lee Goldberg's publishing company. Excellent crime thriller books.
Lee Goldberg's television credits.