Please note, as an Amazon Associate I earn from qualifying purchases.
Noelle Holten is an award-winning blogger at Crime Book Junkie. She is the PR & Social Media Manager for Bookouture, a leading digital publisher in the UK, and worked as a Senior Probation Officer for eighteen years.
Dead Inside was her debut novel and the start of a new series featuring DC Maggie Jamieson. The third book in that series, Dead Perfect will be published on October 16, 2020.
Enjoyed talking with Noelle about her writing process, her books, her background, about the British crime fiction scene, social media for authors, and a lot more.
Noelle Holten's Latest Book
Noelle Holten Books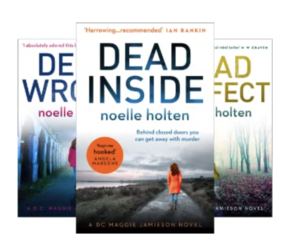 Show Notes and Resources
Author mentions: Angela Marsons, Ian Rankin, Kathy Reichs, Linwood Barclay, Patricia Cornwell, Steve Cavanagh, D.K. Hood, Lisa Regan
Crime and Publishment – conference in the U.K. that Noelle attended, helping her writing/publishing career. They also offer courses for crime fiction writers.