#1 New York Times Bestselling Author Lee Goldberg is back on the podcast to chat about his latest release FAKE TRUTH (the third book in his Ian Ludlow series).
Lee Goldberg writes books and television shows (which we talk about during the interview).
His mother wanted him to be a doctor, and his grandfather wanted him to go into the family furniture business. Instead, he put himself through UCLA as a freelance journalist, writing for such publications as American Film, Starlog, Newsweek, The Los Angeles Times Syndicate, The Washington Post and The San Francisco Chronicle (he also wrote erotic letters to the editor for Playgirl at $25-a-letter, but he doesn't tell people about that, he just likes to boast about those "Tiffany" credits).
He published his first book .357 Vigilante (as "Ian Ludlow," so he'd be on the shelf next to Robert Ludlum) while he was still a UCLA student. The West Coast Review of Books called his debut "as stunning as the report of a .357 Magnum, a dynamic premiere effort," singling the book out as "The Best New Paperback Series" of the year. Naturally, the publisher promptly went bankrupt and he never saw a dime in royalties.
His many subsequent books include the non-fiction Successful Television Writing and Unsold Television Pilots as well as the novels My Gun Has Bullets, The Walk, King City, McGrave, Dead Space, and Watch Me Die, which was nominated for a Shamus Award for Best Novel from the "Private Eye Writers of America." He's also the writer/co-creator of The Dead Man, the monthly series of original novels published by Amazon's 47North imprint, and co-author with Janet Evanovich of the five international bestselling Fox & O'Hare novels (The Heist, The Chase, The Job, The Scam and The Pursuit) and two New York Times bestselling prequel novellas (The Shell Game and Pros & Cons)
His two careers, novelist and TV writer, merged when he wrote the eight books in the Diagnosis Murder series of original novels, based on the hit CBS TV mystery that he also wrote and produced. He followed that up by writing fifteen bestselling novels based on Monk, another TV show that he worked on. His Monk novels have been translated and published in Germany, Poland, Thailand, Japan, Turkey, and many other countries. (Bio from LeeGoldberg.com).
Latest Book From Lee Goldberg
Other Books by Lee Goldberg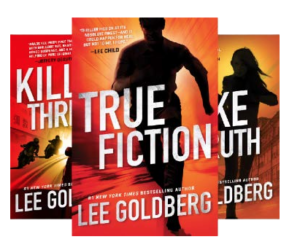 The second book in the Eve Ronin series, Bone Canyon, is now available for pre-order on Amazon.

Show Notes and Links
Link to my previous interview with Lee Goldberg, episode #88.
A tour of Lee Goldberg's writing lair… office.